Africa is a continent full of culture, flora, fauna, and adventure. Africa is not just a destination; it is an experience.
Africa is the world's second-largest continent and an exciting place to visit. Its plethora of national parks, wild species, and unique landscapes interest everyone.
Over the years, the number of tourists traveling to Africa has been doubling. For so long, Africa was famous for having low income, poverty, and diseases. It was often misunderstood as the riskiest continent to travel around.
Sure, some countries have a high crime rate and terrorism. But, what you should know is that only because some are, it does not mean every state is the same.
😍 Want to connect with fellow travelers? Join our group😍
Safety depends on you as well. It is vital as a traveler to be aware of your surroundings. I mean, no matter which country we travel to, if we are not careful, we will be a victim of our carelessness, right?
Africa has a lot of countries that are rich in natural beauty, infrastructure, and safety. Yes, you heard it right. There are African countries that meet the Global Peace Index (GPI) standard of Italy and Greece.
These countries have amicable people. Plus, some states even have English as their first language! Read on as I clear the myths about how there are many safe places to travel in majestic Africa.
1. Safest Places To Travel In Africa: Rwanda
Rwanda is a small landlocked East-African country. It is famous as the 'land of a thousand hills.' The nation is full of abundant wildlife and natural aesthetics.
Rwanda was a developing country that had severe economic repercussions in the past. Today, Rwanda is the safest country in Africa. In 2017, Rwanda ranked as the ninth safest country in the world.
The country has a solid safety record for tourists and its citizens. It emphasizes much on security. The infrastructure of the country is good, especially in its capital city, Kigali.
Rwanda's people are also very welcoming of tourists and are always ready to assist you in any way they can.
The country is also very safe for solo travel. The only problem here is the risk of contracting diseases like Malaria and Dengue. You should be careful of some infections from cuts and bruises.
Do not forget to pack your antiseptic creams and antimalarials.
Best time to Visit Rwanda
The best season to visit this land is from June to September as the weather is dry.
Best Places to Visit in Rwanda
i. Kigali
I have a lot to talk about the country's scenic landscapes. But before I get to the natural part, let me focus on the architectural beauty of its urbanized capital, Kigali.
Kigali has Rwanda's best architectural sites, restaurants, museums, and hotels.
You should visit the Genocide Memorial Centre. There you can learn about the horrors that took place in Rwanda's history. The Genocide Centre also has beautiful gardens where you can stroll around.
ii. Tea Gardens
Tea is one of Rwanda's largest exports. The fertile volcanic soil and climate make Rwanda perfect for tea plantations.
Tea vegetation covers Rwanda's lands. I suggest you visit the tea plantation area and buy some organic green tea.
The quality is superb. Plus, tea farms are also an excellent place for sightseeing.
iii. Volcanoes National Park
It would be best if you visited the Volcanoes National Park when you are in Rwanda. Visiting this park is one of the most famous things to do in Rwanda.
The national park lets you go on a gorilla trek. It gives you a chance to encounter a large number of mountain gorillas as you hike the mountains.
This park also provides stunning scenery and the sight of the Virunga Mountains.
iii. Nyungwe Forest National Park
By now, you know, Rwanda is famous for its large number of primates. Another prominent place to see the primates like Colobus monkeys and Chimpanzees is the Nyungwe Forest National Park.
The national park is famous for its abundant wildlife species and natural beauty. It also has exciting adventure activities and luxurious accommodations.
You can go on a jungle safari, canopy walks, and waterfall hikes to see beautiful birds and butterfly species. Oh! Nyungwe Forest has over 13 hikes in its area with traverse ancient rainforests too.
iv. Lake Kivu
Lakesides at Rwanda rejuvenates your body and soul. Rwanda has several beautiful lakes with picturesque scenery. But if I had to choose a lake, it would be Lake Kivu.
Lake Kivu is one of the most fantastic lakes in Africa. The freshwater lake surrounded by mountains has salient coastlines and beaches.
While you are here, I suggest you go on a boat ride and visit the small islands located within the lakesides. Lake Kivu also has many luxurious resorts and hotels on its shore. So, traveling to Lake Kivu and finding shelter will not be difficult.
2. Safest Places To Travel In Africa: Mauritius
Mauritius is another East-African country known for its beaches, lagoons, and reefs.
Apart from nature, Mauritius is also famous for its human-made attractions, cultural diversity, and water sports. It is a perfect destination for relaxed holidays, be it for solo travelers or with families.
This Indian Ocean island is very safe to visit in Africa. The people are amicable and are welcoming to travelers. On a plus point, English is widely spoken in Mauritius, so communication will not be a problem.
The most common crime is petty theft, so I suggest you stay aware and keep your valuables close. I also recommend you to avoid walking alone at night.
Best Time to Visit Mauritius
The best time to visit Mauritius is from May to November as the weather is dry and cool. Do not travel to Mauritius from December to April as it can be hot and humid. January to March face rainfall.
Best Places to Travel in Mauritius
i. Port Louis
Port Louis is the capital of Mauritius. It is one of Africa's most prosperous cities.
Port Louis is the best for traditions, festivals, food, art, and architecture. The overall lifestyle of the city is the finest in Africa.
When you are here, visit the Place D'Armes, Jummah Mosque, Aapravasi Ghat, Le Caudan Waterfront Casino, and Port Louis Waterfront. They are all free of cost.
If you were to spend some money, visit the Mauritius National Botanical Garden and Citadel Fort.
ii. Caudan Waterfront
Caudan Waterfront is a must-visit.
You can have a complete shopping experience. There are casinos, movie theatres, restaurants, and five-star hotels too.
Visit the Blue Penny Museum. You can get an interactive observation at the 16th to 19th-century maps and navigation instruments. Visitors can also enjoy the artworks from Paul Virginie.
If you cannot have enough of the museums, then there are other museums. Some are The Stamp Museum and the Mauritius Natural History Museum.
iii. Ile Aux Aigrettes
Ile Aux Aigrettes is an island off the south-east coast of Mauritius. You can enjoy a 1.5 hours tour of this nature sanctuary, home to endangered wild animals and plants.
The plants that grow on this island are one-of-a-kind, not found in any other part of the world. Ile Aux Aigrettes has a world-recognized standard for the protection of endangered flora and fauna.
iv. Casela Wildlife Park
Another great place to see the wild animals in a natural setting is the Casela Wildlife Park.
This park is a scenic masterpiece with a waterfall and over 140 bird species and wild animals. It has safari tours, camel rides, and zip-lining. It also has restaurants and shops.
v. Flic En Flac Beach
Flic En Flac is a seaside village with a magnificent white-sand beach. This village offers watersports and lagoons.
The beach also has many restaurants nearby. If you want a chill day, you can lay back on the beach and sip on cocktails and beers or just go on a relaxing spa day.
vi. Black River Gorges National Park
The Black River Gorges National Park indeed is a picture-perfect place. You will get to see some beautiful landscapes, plants, animals, and rare species of birds.
vii. Blue Bay Marine
Blue Bay Marine is the best place in Mauritius to observe coral life. You can also see shallow water fish species here.
It is a fantastic place for scuba diving, snorkeling, surfing, and sailing.
3. Safest Places To Travel In Africa: Botswana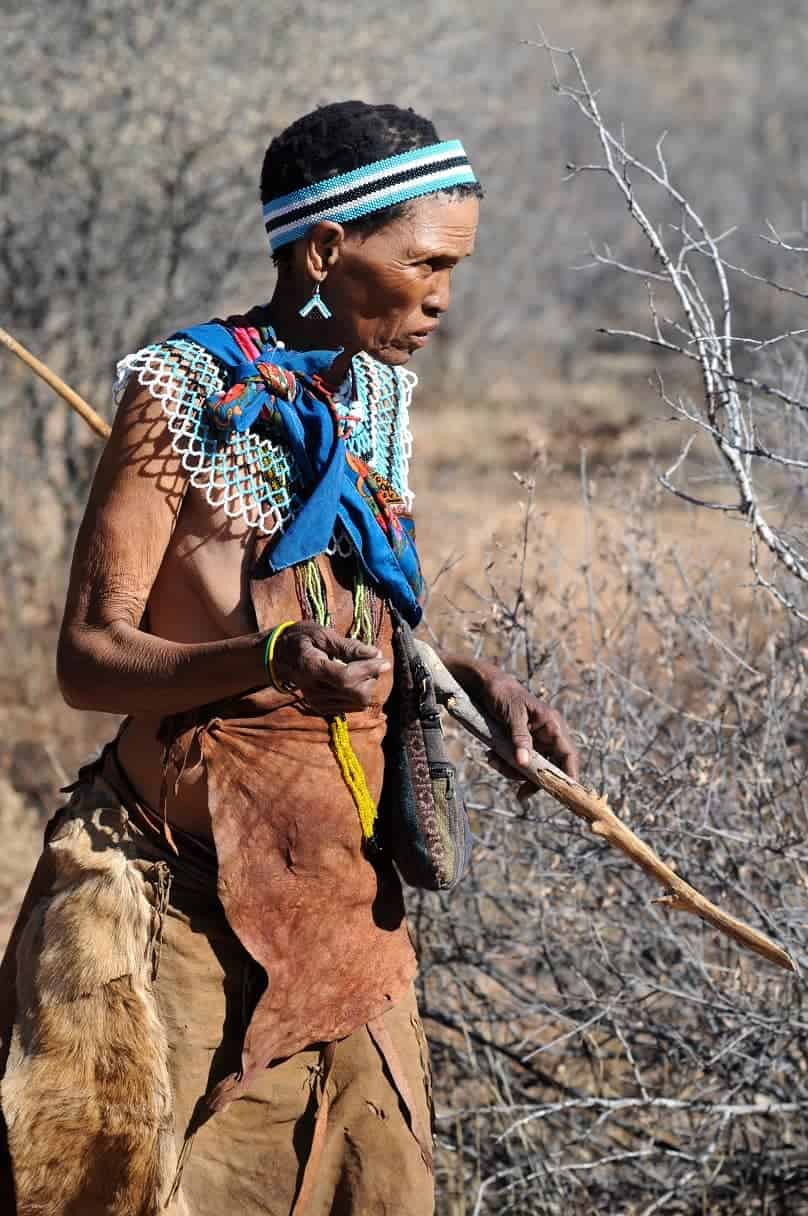 Botswana is a landlocked South African country. It is famous for its exclusive safari destinations.
This country is home to well-known wildlife sites. Some of them are Okavango Delta, the Kalahari Desert, and the Chobe National Park.
Botswana is famous for its highly established tourism industries and wildlife tours. It is one of my favorite African countries to visit, and well, it happens to be one of the safest nations in Africa too. The state has a stable political condition and rich possession of natural resources.
The crime rate in Botswana is meager. Also, the locals of Botswana are amicable.
The country has a massive elephant population. So, the only danger you will face here is an elephant encounter while driving or camping.
Best time to Visit Botswana
You should visit Botswana in the dry months of May to October. It is the best time for wildlife viewing. However, nights can be colder, so I suggest you pack a jacket.
Best Places to Visit in Botswana
i. Okavango Delta
The Okavango Delta is among the few major interior delta systems that do not flow into a sea or ocean. This delta is a UNESCO World Heritage Site with an intact wetland system.
It is home to the world's most endangered species and large mammals. You can explore the delta on foot or by mokoro and motorized boat rides. I believe the game drive is the best way to see the animals up-close at Okavango Delta.
ii. Chobe National Park
Located near the Okavango Delta, Chobe National Park is famous as one of the world's best wildlife destinations.
Chobe National Park mesmerizes you with its wildlife and lush vegetation. The national park is excellent for wildlife photography.
I suggest you go on a boat cruise and game drives. You can see large herds of elephants, cape buffalos, lions, antelopes, hippos, and more as you pass through the rivers.
If you are not short on money, you need to try the Chobe houseboats. It is an excellent alternative for accommodation while experiencing the outdoors.
iii. Moremi Game Reserve
Moremi Game Reserve is located at the heart of the Okavango Delta. Yep! Most of the beautiful areas to travel in Botswana is in or near Okavango.
Moremi Game Reserve, however, provides land-based activities rather than water-based boat rides. It is the best place to spot the Big Five as you will be passing through the Chief's Island and Mopane Tongue. Tourists mostly visit Moremi Game Reserve to see the leopards roaming around.
Moremi also has many beautiful river lodges and camps that are great for relaxation.
iv. Francistown
Francistown is Botswana's second-largest town, which is also an important regional center.
While you here, I suggest you visit the Supa Ngwaa Museum. It exhibits the Kalanga people's culture and history. You can also see collections of pottery, wood carvings, basketry, and musical instruments.
If you want to explore more wildlife, then visit the Tachila Nature Reserve. You should also attend the Domboshaba Cultural Festival when in Francistown.
v. Makgadikgadi Basin
Makgadikgadi Basin is a part of the Kalahari Basin. It is one of the most extensive salt plains globally.
This basin displays a unique landscape with fascinating scenic beauty. You should go on an overnight tour and sleep under the stars at this salt plain.
4. Safest Places To Travel In Africa: Malawi
Malawi is an East African landlocked country bordered by Tanzania, Mozambique, and Zambia. It is also known as 'the warm heart of Africa.'
Malawi invites a lot of tourists to see the Big Five and its great freshwater lakes. Not to forget, it is also well-known for its friendly people who will always greet you with a smile.
Another great thing about Malawi is that English is their official language. Communication won't be difficult.
Malawi is also one of Africa's top safest countries, although it is one of the world's poorest. Petty crimes like theft, pickpocketing, and bag-snatching do exist. I suggest you protect your belongings.
Best Time to Visit Malawi
The most appropriate time to visit Malawi would be in the winter months like May to October. Avoid visiting the country from November to April. It faces hot summer with immense rainfall at that time of the year.
Best Places to Visit in Malawi
i. Lake Malawi
Besides wildlife, Malawi is famous for Lake Malawi. It is the third-largest lake in Africa and the deepest lake in the world.
It has the largest number of aquatic birds, like eagles, ducks, herons, and kingfishers. Not to forget, it also supports many Malawians who depend on the lake's bounty for livelihood. Lake Malawi is a great place to eat some fresh fish dishes.
The Lake Malawi National Park consists of the Cape Maclear Peninsula, twelve islands, sandy beaches, and lagoons. In 1984, this national park became a UNESCO World Heritage Site.
You can swim, snorkel, scuba dive, and kayak in the lake. Camping, hiking, birdwatching, and fishing are good ways to spend the day at Lake Malawi.
ii. Chintheche
Chintheche lies on the northern shore of Lake Malawi. It is a beautiful beach area that makes you feel like you are on a weekend getaway at the Caribbean Island.
You can see the crystal clear water and green vegetation. Chintheche also has superb accommodation facilities and leisure activities.
iii. Kande Horse Stables
You may see many animals on your trip to Africa, but riding one will surely be the best experience for you. Kande Horse Stables is a family-owned stable that provides horseback rides at the lush Brachystelma forest. It also lets you dip in the lake while riding bareback.
It costs $30 for a one-hour ride.
iv. Livingstonia
Located near the Nyika National Park is the sanctified town named Livingstonia. The city is named after Dr. Robert Laws. The Law's house is now a lodge and a museum.
Scottish missionaries had built Livingstonia. It is a great place to go for a laid-back day.
Livingstonia has panoramic vistas of Chitimba Bay and the Livingstone Mountains. You should visit the museum, church, and sundry historical curios. I suggest you stay the night at a permaculture farm to get the magical experience of your Malawi tour.
v. Nyika National Park
Nyika National Park is home to hundreds of animals, including leopards, zebras, spotted hyenas, and antelopes. It is Malawi's largest national park. The national park is also a sanctuary for 425 bird species.
Nyika Safari is a must while touring Malawi. You get to see the beautiful view of Malawi's rolling hills, pine forests, and patches of bush scattered around the vast area. The visitors can spot grazing herds and wild animals here.
vi. Majete Wildlife Reserve
Located in the Southern Malawi region, the Majete Wildlife Reserve is one of Africa's most famous wildlife reserves. It houses the 'Big Five.'
Majete has a diverse landscape of dry savannah, marshes, and Mlombo woodland. Going on game drives, river safaris, bush camping, bird walks, and village tours is a must here. You can also drive around the wildlife reserve in your vehicle without a scout.
5. Safest Places To Travel In Africa: Ghana
Ghana is another safe country to travel in Africa, with a GPI score of 1.776.
Although it does not have wildlife activities like other African countries, Ghana still boasts a rich history and culture. It is excellent for surfing and chilling at the beaches. Not to forget, Ghana thrives on gold and cocoa.
The country has miles of sandy beaches with picture-perfect coasts. Ghana is one of the most peaceful countries in Africa, with welcoming people. Despite all this, I still suggest you be cautious of petty crimes.
Best Time to Visit Ghana
The most prominent time to visit Ghana is between October and March. It is when the weather is more chill and less humid.
If you are traveling to Ghana somewhere in December, you will face the Saharan wind. This wind causes haze, dust, and dry skin.
Best Places to Visit in Ghana
i. Accra
Accra is the capital city of Ghana. This port city is the commercial hub is famous for surfing. Theft is something you need to be careful about, so I suggest you remain vigilant with your backpacks.
When in Accra, I recommend visiting the Skybar. There you can enjoy sipping some cocktails and admiring the city's panoramic views.
Visit the National Museum and learn about the history of Ghana. Also, learn about the Pan African culture at the W.E.B Du Bois Memorial Centre.
Ghana is one of the most prominent cocoa producers in the world. It is a must to take part in a chocolate tasting tour.
You can try wonderful chocolate flavors such as mocha, coconut, and hibiscus. You can also take the beautifully crafted and packaged chocolates as gifts back home.
Another thing that I love about Accra and Ghana is its lively nightlife. Go to Osu and mingle at the live music shows.
Do not miss to visit the Kwame Nkrumah Mausoleum. It is a two-hectare park built as a tribute to Ghana's first president, Kwame Nkrumah.
ii. Jamestown
Jamestown is a city that gives you a different perspective of Accra. It is one of Ghana's oldest settlements. It is famous for a mix of Colonial Architecture and a crazy street-market atmosphere.
You should attend the Chale Wote Street Art Festival. It showcases alternative visual and cultural performances. You should also climb the Jamestown Lighthouse and walk down High Street to see the Usher Fort.
iii. Cape Coast Castle
Cape Coast Castle is an important historical structure of Ghana. The castle has preserved dungeons and holding rooms. You should visit the Door of No Return, where citizens were brought to become slaves.
Swedes originally built the castle for the timber and gold trades. Sadly, it became a slave fort sometime later.
iv. Kakum National Park
Kakum National Park is a must-visit for any nature lover who is on a trip to Ghana. It is a tropical rainforest reserve that houses species of monkeys, antelopes, and many rare birds.
What makes Kakum different from other national parks? The long-canopy walkway measuring 350 meters makes the park unique. It is one of two canopy walks in Africa.
v. Mole National Park
Mole National Park is Ghana's largest wildlife park. It draws every nature lover towards it. This park is home to buffalos, elephants, hippos, cheetahs, and other animals that roam around the savannah.
It also has waterfalls along the Kparia and Polzenrivere. This national park protects the forests in Northern Ghana.
vi. Wli Waterfalls
Wli, the highest waterfall in Ghana, is an incredible sight to see. Wli Waterfalls provides some of the freshest air and has a view of the highest mountains of Ghana.
I suggest you hike the waterfall to see the beautiful landscape and wildlife.
6. Safest Places To Travel In Africa: Zambia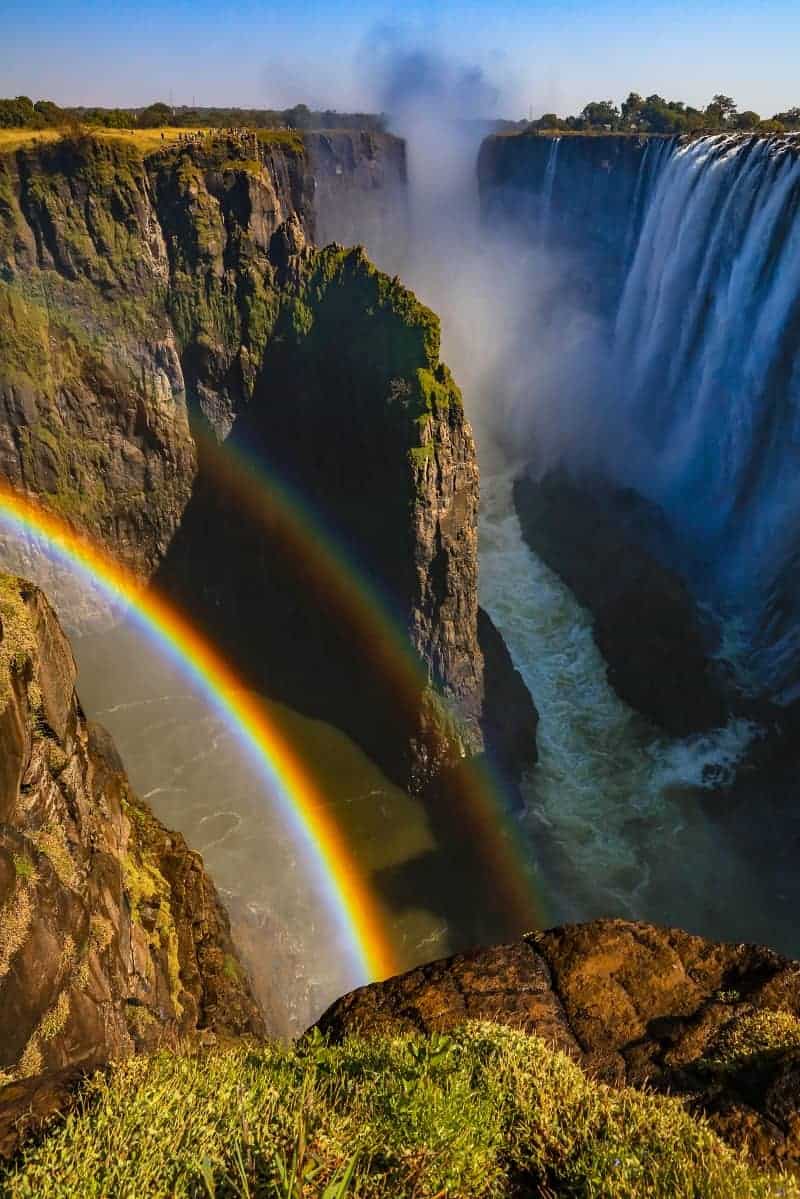 Zambia is another landlocked country. It is famous for having the majestic Victoria Falls on its border with Zimbabwe.
Zambia has some of the best national parks in Africa. It houses many wild animals and the necessary medical facilities.
It is one of the safest countries in Africa that has a GPI score of 1.085. However, you need to be cautious of petty crimes. One of the most significant risks in Africa is Malaria.
I suggest you bring your necessary antibiotics and antimalarials. Zambia also has the most friendly people you will ever meet.
Best Time to Visit Zambia
The best time to tour Zambia is in the dry seasons of May to October. Avoid traveling to Zambia from December to April as it falls during the rainy season of Zambia.
Best Places to Visit in Zambia
i. Victoria Falls
Traveling to Zambia and going without a tour of the world's largest waterfall is something you do not want to do. Victoria Falls lies on the Zambezi River between Zambia and Zimbabwe. Looking at the roaring water as it thunders down, creating a mist of clouds, is an experience of a lifetime.
If you feel adventurous, you can go white water rafting, bungee jumping, or a helicopter flight.
ii. South Luangwa National Park
South Luangwa National Park is the place where you can see Zambia at its wildest. Well, Zambia's national parks are not fenced. You will have a visit from some wild animals in your area now and then.
But what makes South Luangwa different is that it has the highest density of big game. People also know it as the valley of Leopards as this national park has a high rate of leopard sightings.
Apart from game drives, I suggest you go on a walking safari at Croc Valley Camp. It will be a great way to learn about animal tracking. You can also gain knowledge about Zambia's anti-poaching and conservation efforts.
iii. Lake Kariba
Lake Kariba is the largest human-made body of water in the world. The lake is so huge that you may feel like gazing over the ocean while standing in a landlocked country.
I suggest you book yourself a houseboat to get the most out of Lake Kariba. You will enjoy the lake's sunset view and see hippos, crocodiles, birds, and elephants.
Other popular activities to enjoy are sunbathing, watersports, fishing, and just general relaxation.
iv. Kafue National Park
Kafue is the oldest and the largest national park in Zambia. This national park accounts for about 33% of Zambia's national park systems.
There are various activities you can do at Kafue National Park. To list a few, going on a safari tour, walking safari, balloon flight, and boat safari. You can also go on birding drives, fishing, and canoeing if you stay inside the national park premises.
v. Lower Zambezi National Park
Lower Zambezi is a beautiful national park. It features the glistening waters of the Zambezi river.
This park has various landscapes like grasslands, forests, floodplains, and a variety of wildlife. You should take a canoe safari or enjoy fly fishing and guided walks at the national park.
vi. Lusaka
Lusaka is the capital of Zambia and a great place to end your Zambia adventure.
At Lusaka, you can try out many eateries. Head to the bars, or get a glimpse of the local wildlife at the Lilayi Elephant Nursery. You should also visit the National Museum and the Cathedral of the Holy Cross.
7. Safest Places To Travel In Africa: Namibia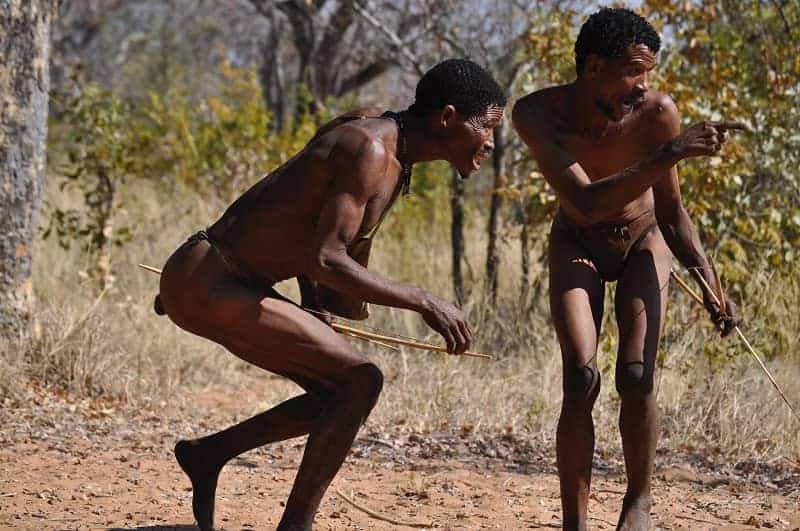 Namibia is a picturesque and safe country. It has an arid landscape and a low population.
Namibia is a very peaceful country famous for epic road trips, star gazing, and wild safaris, Oh! Adrenaline pumping activities like skydiving and quad biking are also very trendy.
This country has a low rate of tropical diseases and Malaria cases. The political condition is also stable. However, since the state has vast deserts, you may feel dehydrated and face heat strokes.
Due to the low population, you may have to get your medical kits and vehicle repairing tools just in case. I suggest you take precautions for petty crimes such as pickpocketing and bag snatching. You should be careful even though the chances of being the victim of it are relatively low.
Best Time to Visit Namibia
The most appropriate time to visit Namibia is during the winter season, from July to October. Due to the desert, Namibia does not face much rainfall and has consistent weather.
Best Places to Visit in Namibia
i. Etosha National Park
Located not far from the Angolan border is the Etosha National Park – one of Africa's best conservation areas. This national park is accessible by road.
You can view the big five animals like zebra, gemsbok, springbok, hyena, and more at its waterholes. The white arid landscapes of the national park add more to your unique experience in Namibia.
ii. Swakopmund
If you have had enough of the desert in Namibia, then Swakopmund is a place to go. Swakopmund is the perfect destination for a seaside holiday.
You can go around the former German colonial towns and admire the German-themed architecture. The city is so influenced by German culture that it had its own October Beer Festival.
If you want to experience adrenaline, I suggest you go on boat trips to see the dolphins and seals. If you are a photography enthusiast, then take a Swakopmund Safari to the 'Moon Landscape.'
If you go a bit outside the town, several dunes await you. You can try out adventures like sandboarding, skiing, quad biking, and off-road driving.
iii. Windhoek
I cannot miss the capital city on the list of the 'Best Places to Visit in Namibia', right?
Windhoek is a perfect blend of modern and traditional Africa. It is a beautiful town with German Colonial architecture.
Take a break from your travel and relax at hotels and lodges. It is a perfect place to explore some cute cafes and eateries and have a great night. You can also find rental vehicles easily from Windhoek.
iv. Fish River Canyon
Fish River Canyon is the largest canyon in the world. Visitors will be in awe as they see the breathtaking scenery of the flat arid plateau.
As they say, we have to see the Fish River Canyon for believing its greatness. Most of the tourists go to the Fish River Canyon for sightseeing. But if you visit the site during the colder months, then I suggest you hike the canyon.
Plus, you should take a dip in the nearby hot springs at Ai-Ais.
v. Sossusvlei
Sossusvlei is Namibia's famous red dune area, located at the Namib Naukluft National Park's heart. Sossusvlei is a perfect spot for photography. Watching the sunrise and set over the dunes will be a beautiful experience.
The area has accommodation facilities which provide safari packages too. You can also opt for other exciting activities like going on a hot air balloon safari, stargazing, and horseback riding.
vi. Kaokoveld
Kaokoveld is Southern Africa's last untouched area due to its extreme weather condition. It is suitable for birdwatching and going on game drives to Namibia's lowkey safari areas.
The winter tends to be extremely cold. Meanwhile, the summers are dead-ass hot with occasional rainfall.
Despite the weather, I have Kaokoveld on my list because I want you to see Himba's lifestyle. Himba is nomadic and pastoral people who can survive in an arid environment and have a striking appearance. Learning about their lifestyle is a must.
8. Safest Places To Travel In Africa: Seychelles
Islands, beaches, and more islands and beaches; this is how I'd describe Seychelles.
Seychelles is home to coral reefs, nature reserves, and rare animals such as giant Aldabra tortoises. This island country serves as a tropical getaway and is most famous as a luxury honeymoon spot. It has gorgeous landscapes with abundant nature.
Besides, it is quite a safe country, and travelers experience little crime. Your trip will be trouble-free. But, robberies, burglaries, and petty crimes are prevalent. So, remember to be cautious and avoid walking alone at night.
Best Time to Visit Seychelles
The finest time to visit Seychelles is between April and May or October and November. These are when the underwater is visible, and there is no rainfall.
Best Places to Visit In Seychelles
i. Vallee de Mai Reserve
Vallee de Mai Reserve is a nature reserve located on the island of Praslin. It is also a UNESCO World Heritage Site. The nature reserve is famous for its ancient palm forests.
There are over 4,000 Coco de Mer trees. This nature reserve has the world's largest seed and many birds, plants, and reptile species not found anywhere else.
Take a tour guide and learn about various facts and conspiracies about the forest. It is excellent for geology and geography lovers.
ii. La Digue Island
La Digue Island is famous for the Anse Source d'Argent Beach. While you are on this beautiful island, you need to visit the Old Plantation House. Here, coconut production takes place.
You should also visit the colonial-era graveyard. The prime way to explore the island is by renting a bike. You also need to go and have a beautiful day at Anse Source d'Argent.
If you want to see some flora and fauna, then you can visit the Veuve Nature Reserve.
iii. Mahe Island
Mahe is the largest island in Seychelles, best known for its hiking trails. It has some terrific nature trails that will take you through the vibrant wildlife and ocean views.
One of the easy trails is the Anse Major Trail. The route ends at the Anse Major Beach. If you want a challenge, then head towards the Morne Blanc Trail.
iv. Anse Georgette
There are many beautiful beaches in Seychelles, and you will be visiting some of them. But if you have less time and want to choose one island, it has to be Anse Georgette.
Anse Georgette is on Praslin Island, which means you can go to the beach on your day trip to Vallee de Mai. Anse Georgette is famous as one of Praslin's most secluded spots. The beach has gorgeous granite boulders and white sands.
If you want to visit yet another beach, then there is Anse Lazio too. A two-day trip would be best to explore Anse Georgette and Anse Lazio.
v. Victoria
Now, saving the capital city for the last. Victoria lies on Mahe Island and is one of the smallest capital cities in the world. Though Victoria is not a tropical island, unlike most other African cities, it sure is vibrant.
When you visit Victoria, I suggest you go to the historic clock town and wander around the Creole-style buildings. You should see the colorful markets bustling selling fishes, fruits, and clothes.
Victoria has impressive churches and temples too. You should also go to the National Museum of History.
Victoria also hosts a lot of colorful festivals. This town is the center of the country's most significant events. It witnesses parades accompanied by bands and dancers. Now, doesn't that sound fun?
9. Safest Places To Travel In Africa: Tanzania
Tanzania is among the top African countries that offer the best wildlife experiences.
It receives millions of tourists each year. All of them come to experience wildlife, culture. They also come to witness Mount Kilimanjaro, the tallest mountain in Africa.
Tanzania has a fascinating culture and presents many adventure activities to its explorers. This country also has beaches where you can relax.
In terms of safety, Tanzania is a safe country with a GPI score of 1.85. But, it faces petty crimes which prevail only in tourist-barren places.
So, I suggest you become extra cautious when visiting towns like Arusha Town and Stone Town. These places have more petty crime scenes.
Be it in these towns or any other places, you ALWAYS need to be extra cautious when traveling in a foreign land. Do not walk alone at night.
Best Time to Visit Tanzania
The most appropriate time to travel to Tanzania is from July to October, as the weather is dry and cool. It is the time when the grass is green, and you can see more of the wildlife.
Best Places to Visit in Tanzania
i. Serengeti National Park
If you have read my article on 'Top 10 Destinations in Africa,' I am sure you know how much I love Serengeti. It is because of the song 'Africa by Toto.' This place inspired the music, and the song inspired me.
Serengeti is the best place for game viewing due to its treeless grasslands. The most famous 'Great Migration' is when about 1.5 million wildebeests, zebras, and gazelles migrate. You can see the 'Great Migration' in this national park.
Serengeti National Park is the most prominent place in Tanzania to get a glimpse of the Big Five. It also offers the best safari packages. These safari packages offer mountain biking, horse riding, and archery.
Serengeti is also an excellent spot for birdwatching.
ii. Zanzibar Stone Town and Beaches
Tanzania has some beautiful beaches on its Zanzibar Island. Zanzibar, aka the Spice Island, is a perfect place for vacation.
The beaches at Zanzibar are great places to relax and go for a swim. I suggest you take a dhow (traditional boat) trip at sunset. Some of the beaches also have the right surf tide if you want to go surfing.
When you are in Zanzibar, you need to visit Stone Town.
Stone Town lies at Zanzibar Island's heart. It is famous for old Arabian townhouses that line the narrow alleyways. Stone Town is the world's oldest Swahili city.
The town has great places to sightsee. The old historic buildings are transformed into museums and tourist attractions. You should visit the Forodhani Gardens, the Old Dispensary, the Hamamni Persian Baths, and the Old Fort.
iii. Pemba Island
By now, you know that Tanzania has many beautiful beaches. But if I had to choose only one, it would be Pemba Island.
Pemba Island is a low-key destination and, thus, has a very laid-back atmosphere. The island is a significant producer of clove and famous for the juju traditions of medicine and magic. If you want to learn about voodoo and traditional healing, then Pemba Island is the place to go.
This island is excellent for scuba diving because of its clear water. The availability of coral gardens, sponges, and sea fans also helps.
iv. Ngorongoro Conservation Area
Ngorongoro Conservation Area is on the UNESCO World Heritage Sites list. It lies between Serengeti and Lake Manyara.
The conservation area is home to the famous Ngorongoro Crater. The extinct volcano crater has wetlands, forests, grasslands, and over 30,000 animals and bird species.
It is a superb safari destination for game viewing and bird watching. You can experience the wildlife from a vehicle safari on the crater floor. You can also trek the crater highlands.
v. Mount Kilimanjaro
It cannot be that you are planning to visit Africa and are missing out on its highest peak. Mount Kilimanjaro is also a UNESCO World Heritage Site.
You should not miss out on climbing Mount Kilimanjaro as it is far more accessible than you may think. I suggest you climb the mountain in the dry season from July to October and then from January to March.
Most people come to Mount Kilimanjaro not only to see the wildlife but also to be awe-spired by the beautiful snow-capped mountain.
10. Safest Places To Travel In Africa: Madagascar
I am sure many have watched the Madagascar movie as a child or with your children. The wild animals do not run out like that, but watching those animated scenes in real life is mind-blowing.
Madagascar is most famous for lemurs, colorful chameleons, orchids, and Baobab trees. It is also renowned for its traditional dishes like Zebu, Ravitoto, Laoka, and Misao. The country has unique plant and animal species as a blessing, too.
Madagascar is a very safe country, and the crime rate is meager. I suggest you take precautions and not walk around at night as most crimes occur at night. The people here are also amicable and will help you in times of need.
Best Time to Visit Madagascar
You can visit Madagascar all year-round. But if you ask me about the best months to tour Madagascar, it would be between April to mid-December.
I suggest you avoid the wet season that starts from late December through March. The country faces cyclones during this period.
Best Places to Visit in Madagascar
i. Ile Saint Marie
Also known as Nosy Boraha, Ile Saint Marie is a tropical island surrounded by beaches and reefs. The shores are in line with thatched villages and a great variety of hotels and resorts.
Ile Saint Marie is a top tourist destination because it is cheap, local, and laid back than other resort areas. It is also a great place to eat delicious seafood, snorkel, and see humpback whales.
ii. Ifaty
Ifaty is a small coastal town best for an ideal relaxation ending to your Madagascar safari trip.
The small fishing villages of Ifaty hosts a lot of tourists throughout the year who come there to surf. If you are not much of a surfer, you should go diving, snorkeling, or fishing.
iii. Avenue of the Baobabs
A Madagascar trip certainly has to have the Avenue of Baobabs on the list.
Everyone should see these prominent groups of Grandidier's Baobabs. They line the dirt road between Morondava and Belon'i Tsiribihina.
These trees are not your average-sized trees. They are skyrocketing and have distinctive features. The unique landscape of this area draws a lot of tourists from around the world.
iv. Masoala National Park
Masoala National Park is Madagascar's largest protected area, known for its biodiversity.
The national park has three marine parks and features ten lemur species. They include the Aye-Aye, the world's largest nocturnal primate.
Masoala National Park features a large number of birds and reptiles. It also has marine parks that are ideal for snorkeling and kayaking.
v. Tsingy
Tsingy de Bemaraha Strict Nature Reserve is a UNESCO World Heritage Site. It has a Mangrove forest, wild bears, and lemurs.
The reserve is also famous for its dramatic limestone geographical formations.
It is not a comfortable place to visit. This remote area takes a whole day to get there. But after you reach Tsingy, a great place to hike welcomes you. If you want to have a chill laid back day, then visiting this site on a slow boat is highly recommended.
So you see, Africa, besides having low income and poverty, has a series of native plants and animals. I hope I cleared some misunderstandings about Africa for you.
Africa is a place that every nature lover needs to explore. I hope this article helps you decide which country you want to travel to on your tour to Africa.
If there is anything you think I have missed, please feel free to comment below. I would love to hear about your experiences!