If I could describe South America in one word, it would be 'diverse.' South America is the fourth largest globally. It has a diversity of landscapes, cultures, and architecture.
South America has countries and places historically essential and sacred. It is the wilder side of the American continents. Here, you will find the highest rate of wildlife than any of the other American continents.
South America is a complete package of diverse cuisines, world-class adventure, and history. There has been a misconception that South America is unsafe for travel.
Well, the level of safety depends on various factors. It can be the rate of homicides, petty crimes, accident rates, or natural disasters.
😍 Want to connect with fellow travelers? Join our group😍
People believe that countries like Colombia and Venezuela are very unsafe. Meanwhile, many consider countries like Chile, Argentina, and Uruguay the safest. No matter how beautiful this continent's countries are, tourists reject the idea of traveling to South America.
I do not blame them either. Sometimes we do not see the dangers coming our way. I mean, threats can come in any form.
It may be an armed robber, pickpockets, and road accidents. Danger can also be an encounter with a wild animal, getting lost while hiking, or just being stung by a bee at a beach.
I believe safety depends on you as well. You, as a responsible traveler, need to be cautious about your surroundings. No matter where we go, if we are not careful, we will be at risk anyway.
With the right precautions and knowing when and where to go and not go, you will be all set to travel anywhere. It again depends on you.
South America has a handful of safe travel destinations and has the world's best scenic experience. Below I have listed the seven safest countries in South America according to the Global Peace Index (GPI).
1. Safest Places to Travel in South America: Uruguay
Uruguay is among the safest countries in South America and one of the smallest too. It is famous not only for its low crime rate but also for its vibrant beaches and resorts.
Uruguay is often underestimated by people heading towards its big neighbors like Argentina and Brazil. But trust me. The country will fascinate you with its colonial-era centers, tango clubs, and cultural landmarks.
Uruguay's landscape includes rolling hills, river basins, and lakes. This state is very safe to travel to and does not face any form of the travel ban. The country has a GPI score of 1.7, and the best thing is that it has an excellent quality of life.
The crime rates and the chances of facing a natural disaster in Uruguay are meager.
Best time to visit Uruguay
The perfect time to visit Uruguay is from October to March. These are the months when the temperatures are mild, and there is no rainfall.
Best places to visit in Uruguay
Montevideo – the capital of Uruguay, is the number one place to visit in the country. It is a lively city that is home to Uruguay's half of the entire population.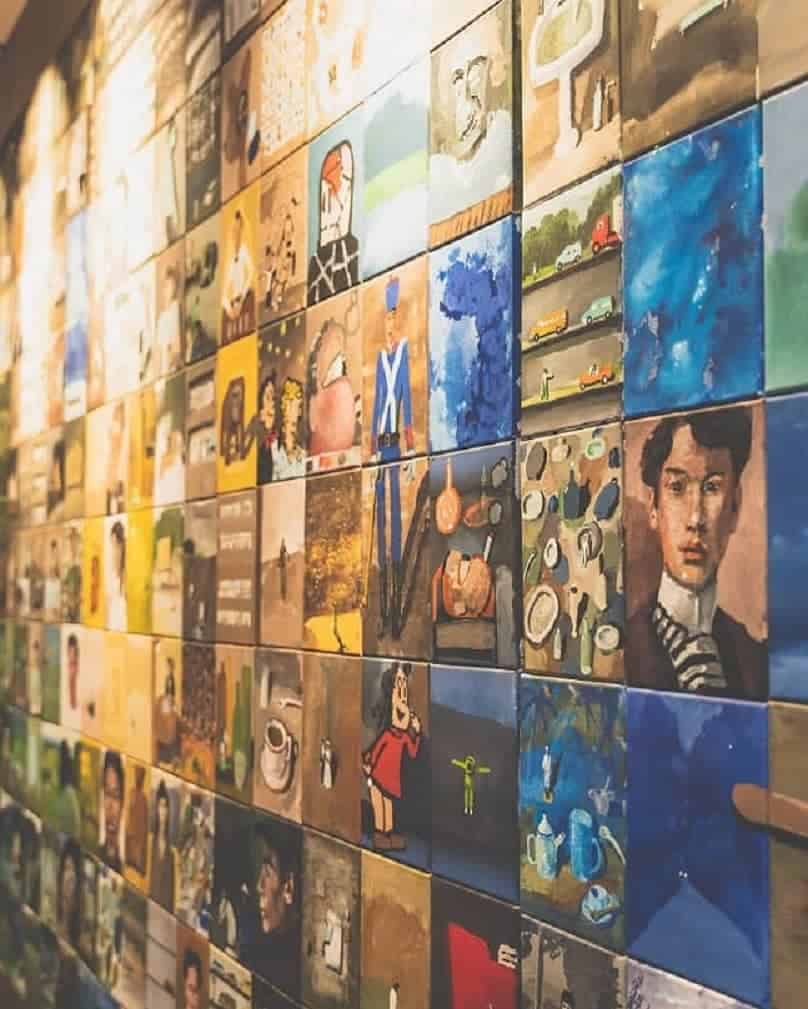 Montevideo has a lot of theatres, art galleries, and music venues. The city also has a vibrant nightlife. You can go to tango bars, drink at a cocktail lounge, and dance your heart out at some of Uruguay's best discos.
If you are a history admirer, you can visit Plaza Independencia at Teatro Solis. You can also experience other beautiful neoclassical buildings scattered throughout the city.
If you want a beach day, then head towards La Rambla. It is a great scenic place to stroll around. If you love football, then go to Estadio Centenario and watch a match.
You see, Montevideo has everything for everyone.
Also known as 'Saint-Tropez of South America,' Punta del Estate is a luxurious beach resort town. It is filled with yachts, casinos, and cocktail bars. Although it is quite expensive, Punta del Estate is a fun place to visit.
Punta del Estate has a lively nightlife and has excellent bars, restaurants, and clubs. This town is great for adrenaline seekers too. You can try a lot of great watersports here.
If you want a more laid-back day, then you can lounge at the beaches and watch the sunset over the ocean.
Salto is the second-largest city in Uruguay. It is a very picture-perfect place where you can enjoy little river sidewalks.
The leafy plazas and the 19th-century architecture are some of the main highlights. You should not miss capturing them. I suggest you go to the thermal springs at Termas del Dayman and relax as the water will rejuvenate you.
Carmelo lies near the spot where Río de la Plata and Rio Uruguay join. Carmelo is another picturesque town with beautiful old buildings and cobbled streets. It gives you the vibe of walking on the roads of France.
When you are at Carmelo, you need to visit the waterfront and take a boat trip to Parana Delta. In terms of more activities, you can go fishing, yachting, or try out other watersports.
You should also visit some excellent wineries in the countryside of Carmelo.
Colonia del Sacramento is one of the oldest cities in Uruguay. It is a quaint city ruled at times by various Spanish and Portuguese dynasties. Due to this, the city has a mixture of different architectural styles.
There are excellent museums in the city that you can look into as well. Most of all, you need to visit the towering lighthouse. It offers fantastic views of the city.
I suggest you also visit the Basilica del Santisimo Sacramento. As a whole, Colonia del Sacramento is an excellent place to experience. It is a place where you can not only sightsee but also eat at restaurants and visit some trendy boutiques.
Santa Teresa National Park
Besides the architecture and the nightlife, Uruguay also offers a unique natural scene. Santa Teresa National Park borders the Punta del Diablo.
It includes various landscapes, ecosystems, flora, and fauna. You can enjoy great hiking trails that take you to the lovely forests in Uruguay's seaside areas. If you are fortunate, then you can get a glimpse of some wild animals too.
While at the Santa Teresa National Park, I suggest you visit the Fortress of Santa Teresa. It dates back to 1762. A visit to this fortress would be of great historical learning for you.
2. Safest Places to Travel in South America: Chile
Chile, for me, is the most beautiful country in South America. The state has the world's most diverse landscapes that please the eye of the beholder.
Chile has tall mountain peaks, beaches, lush forests, ancient volcanoes. On the other hand, the city areas with fine museums, art galleries, and eateries.
The country has excellent national parks and conservation areas, superb for hiking. It also is perfect for adventurous activities like river rafting, mountain biking, climbing, and horseback riding.
On a plus point, Chile is the second safest country after Uruguay with a GPI score of 1.8, as of 2020. The nation has the highest standard of living in South America. It also has the best healthcare system.
The crime rate is meager, and the most common forms of crime are pickpocketing and bag snatching. I suggest you keep your belongings close and stay aware at all times.
Best time to visit Chile
The right time to visit Chile depends on which area you are visiting.
It would be best to visit the country's southern region, like Patagonia, from October to March. You can travel the central valleys, Santiago, as well as the Atacama deserts all year round.
Best places to visit in Chile
Santiago is the capital city of Chile that is the center of the country's culture and entertainment. It is the city where you will begin your Chilean tour as it is the country's central transportation hub.
You can do various exciting things in Santiago. You can experience the museums and galleries or go shopping and fine dining.
But no matter what you do, do not miss visiting the Centro Cultural Palacio La Moneda and the Museum of Pre-Columbian Art. If you want a chill day, I suggest you take an aerial tramway to San Cristobal Hill. Santiago Metropolitan Park is also a cool place to relax for a day.
Torres del Paine National Park
Torres del Paine National Park is in the Southern Patagonia region.
It is an excellent place for hiking and sightseeing. The area comprises mountains, glaciers, and countless lakes and rivers. This park is home to rare wildlife such as Guanacos.
Torres del Paine National Park has many well-marked trails. They offer overnight shelters too. If you wish to go trekking, you need to hire a professional guide compulsorily.
If you are interested in photography, then the views here will indeed work as a masterpiece.
Valparaiso is Chile's third-largest and the central port city. It is famous for its bohemian and artistic vibe. You need to see Valparaiso's colonial architecture at the UNESCO-designated historic downtown.
I suggest you visit the Cochrane's Museum—an old colonial home built in 1842. Another site of historical importance is the Naval and Maritime Museum. The museum emphasizes the contribution of Chile's war heroes who fought in the 'War of Pacific.'
You can take pictures at Valparaiso's colorful houses that will surely oomph your Instagram feed.
The Atacama Desert is the 'Mars of Earth' if that makes sense. The Atacama is the world's driest desert.
It has rugged landscapes that people say resemble the surface of the moon. Atacama's landscapes also feature dry lake beds that are sparkly white due to the deposited salt.
The Atacama Desert comprises many caverns. They contain evidence of pictographs created by early men. It also includes the preservation places of the world's oldest mummies.
One of the most famous, the Chinchorro mummies, are now displayed at the San Miguel de Azapa's archaeological museum.
The Atacama Desert is also an excellent spot for stargazing. While you are here, visit San Pedro de Atacama. It is a small settlement where you can relax in the thermal baths and watch the world's most vibrant sunset.
Rapa Nui National Park is among the UNESCO World Heritage Sites located on Easter Island.
The Rapa Nui Easter Island National Park is most famous for the 887 giant stone Moai Statues. The area's lush flora and fauna are also renowned. The island's early inhabitants made the Moai statues.
Like the re-erected five statues, some other fascinating collections of Rapa Nui are preserved at Ahu Tongariki.
Easter Island is a great hiking spot. Besides hiking, you can also visit the national park for a chill beach day. Rapa Nui has one of Chile's best beaches called Anakena.
If you feel like the national park is not enough to quench your historical thirst, then visit the Father Sebastian Englert Anthropological Museum. It is in Hanga Roa and exhibits the history and traditions of the Polynesian Islands.
3. Safest Places to Travel in South America: Panama
Panama is a transcontinental country in Central America and South America. It is famous for its Panama Canal and natural attractions.
Panama is full of history and fascinating culture. These points make the nation even more of an exciting place for a vacation.
Panama is a great travel and vacation destination. The country boasts relaxation and adventure while being safe.
This gorgeous Latin-American country is the third-safest country in South America with a GPI score of 1.88. Even though it is highly safe, I suggest adopting some precautionary habits. You should stay aware, keep your belongings close, and not walk alone at night.
Best time to visit Panama
The right time to visit Panama is between January and mid-April. The weather is dry and great for sightseeing.
Best places to visit in Panama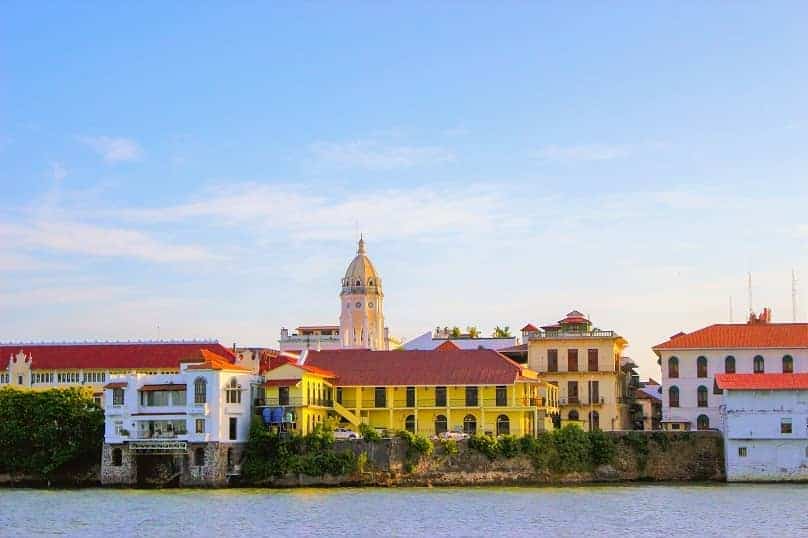 Panama City is the country's capital. It bustles on high-end resorts, shopping malls, and skyscrapers.
It is also the largest city in the state, with excellent sightseeing sites.
I suggest you go to the Bridge of the Americas to see the city's stunning views. While you are in Panama City, you need to go skydiving. Or, you should at least cycling around the four islands along the Amador Causeway.
If you have an interest in history and architecture, then you should visit San Felipe. This town in Panama City is full of ancient architecture and preserved churches.
Casco Viejo lies on the east side of Panama City. It is an area that holds excellent Panamanian history.
Casco Viejo used to be an essential Spanish trading town on the entire Pacific Coast. It was so until Captain Henry Morgan destroyed the country in 1671, leaving behind nothing but ruins.
While you are here, visit those ruins and some surviving buildings. Some of the buildings are the square town of the Cathedral de Panama Viejo, La Merced Church, San Jose temple, and the King's Bridge. Pay your respects to the fallen ones as you pass by these sites.
El Valle de Anton is a little village in the Cocle Province of Central Panama. It is also a nature reserve surrounded by an ancient volcanic crater.
El Valle de Anton is best if you want to experience a slower pace of life. Visiting this village will make you feel closer to the nature and culture of Panama.
Of all the pretty places, you must visit the Orchid Conservatory and the Amphibian Rescue Station. You can also explore the nearby forests that are excellent for birdwatching.
El Valle de Anton also has some picturesque waterfalls that you can visit on your day-off.
If you have watched the reality show 'Survivor,' you can recognize this island. Pearl Island lies on the waters of the Gulf of Panama in the southeast region of Panama City.
After its name, the island is a pearl mining spot. Pearl Island has 83 excellent beaches and fantastic hotels and guest houses.
It is also an attractive spot for snorkeling and whale watching. You can also explore the old shipwreck rusting at the far side of Playa Larga. The beaches are a great location to sunbathe and relax.
Now this one is for the nature lovers. Soberania National Park is an outstanding destination for birdwatching and hiking.
The tropical forest consists of thousands of feathered species. It is also a shelter for animals like monkeys, sloths, coatimundis, and more. Soberania National Park is the only place where you can observe the Crested Eagle and the Sunbittern.
You need to come out early to see the animals as they are the most active in the morning.
4. Safest Places to Travel in South America: Argentina
Argentina is the second in size in South America. It is the eighth-largest in the world; plus, it is also one of the safest countries for travel.
For any football fan, Argentina is the home of the iconic football player, the G.O.A.T. – Lionel Messi. Argentina thrives on football.
Argentina is a diverse country in terms of landscape and population. This country has white ice and snow capes, deserts, and beautiful beaches.
Argentina is also known for its food. The country has some fantastic steak, gauchos, and wine. You can find wine easily in supermarkets and at an affordable price.
Also, when you are in Argentina, you need to learn the Tango.
Argentina ranks as the fourth safest country in South America with a GPI of 1.98. The Argentines are also very open and generous people. They will happily help you even if you have met them for the first time.
Petty crimes do occur, so I suggest you always to be alert to your surroundings.
Best time to visit Argentina
The most suitable time to visit Argentina is in spring, between October and mid-December. Autumn is also a great season to travel to Argentina.
Best places to visit in Argentina
The capital of Argentina, Buenos Aires, is also known as the 'Paris of South America.'
The city boasts neoclassical architecture while still having an electric mix of modernization.
Buenos Aires is all about trying out delicious food and having a great nightlife. You should also watch an opera show at the Teatro Colon and explore the La Recoleta Cemetery.
If you have some more time in Buenos Aires, learn the Tango or just watch a tango show at San Telmo.
When one says that they want to visit Argentina, they are referring to the Iguazu Falls.
Iguazu is an exquisite array of waterfalls that is on every nature lover's bucket list. It is a UNESCO World Heritage Site situated on the border that splits Argentina with Brazil.
Iguazu Falls pull travelers from all around the globe to witness its beauty in person. You can easily visit this site from Buenos Aires.
If you feel daring, then you should take a boat to the foot of the waterfalls. Hiking at the Iguazu National Park is also a great activity that you need to experience.
Ushuaia is one of my favorite destinations in Argentina. If you have read my previous articles, you will know that I am always fascinated by nature. By nature, I mean the spectacular variety of landscapes. Ushuaia – The End of the World gives me just that.
Ushuaia, the world's southernmost city, has mountains, sea, glaciers, and woods surrounding it. It is a busy port that lights up at night, making it look like Christmas at sea.
I suggest you visit the Tierra del Fuego National Park. You can witness Ushuaia's diverse flora and fauna. Other sites that you should not miss out on are the San Juan de Salvamento Lighthouse, End of the World Museum, and the Maritime Museum of Ushuaia.
If you want to try out some outdoor activities, you can cruise on the Beagle Channel. You can hunt for the Yamana archeological ruins. Taking a walk with the cute penguins at the Isla Martillo is also a lifetime experience.
Los Glaciares National Park
Los Glaciares National Park is another UNESCO World Heritage Site. It presents excellent landscape features. The park is home to the world's most accessible ice-fields like the Glaciar Perito Moreno.
You can go on an excursion to witness the massive glacier, the world's largest freshwater reserve. You will have a thrilling experience as you watch the glacier stay still before the background of the glorious mountain range.
Los Glaciares National Park offers incredible ice field views. It also showcases a beautiful mountain named Monte Fitz Roy. The 3,359 meters tall mountain is supposedly more challenging to climb than Mount Everest.
La Boca is a lively neighborhood of Buenos Aires. It is famous for its colorful houses, museums, and art galleries.
You can visit the open-air museum called the Caminito Street Museum. Or, you can walk along the Riachuelo River, where there is a cluster of attractions.
La Boca is also famous for its Tango and the soccer team. If you happen to visit the neighborhood just in time for the Boca Juniors team's match, you will have a great time watching the game.
Mendoza is another city in the Cuyo region of Argentina. It is famous for its Malbec wine and world-class restaurants and spas.
Mendoza has streets lined with modern and art deco buildings. It is a vibrant city. You need to bike through the vineyards and hike to the Confluencia Base Camp to see a view of Mount Aconcagua.
5. Safest Places to Travel in South America: Paraguay
Paraguay lies in South America's heart. It comprises large areas of swampland and subtropical forests.
This state also has sprawling savannahs.
Paraguay is a landlocked country, ironically, with a large navy. It has the most massive naval power. Most people do not put Paraguay on their travel list but let me tell you, do not make that mistake.
Paraguay is a country full of rivers, waterfalls, lakes, and historical landmarks. This underrated country has many destinations boasting a unique blend of culture and geography.
Another stunning factor of this country is that it is very safe. Paraguay has a GPI score of 1.99. The country faces no travel restrictions.
But, there is a slight chance of tourists being victims of petty crimes. You should also be aware of smuggling, money laundering, and corrupt police.
I recommend you all know about the places you are visiting and the agencies you are traveling with beforehand.
Best time to visit Paraguay
The most suitable time to visit Paraguay is from September to early December. These are the times when the weather is more relaxed, and accommodation fares are cheaper.
If you do not have budget concerns, you can visit the country all year round as there is no torrential rain risk.
Best places to visit in Paraguay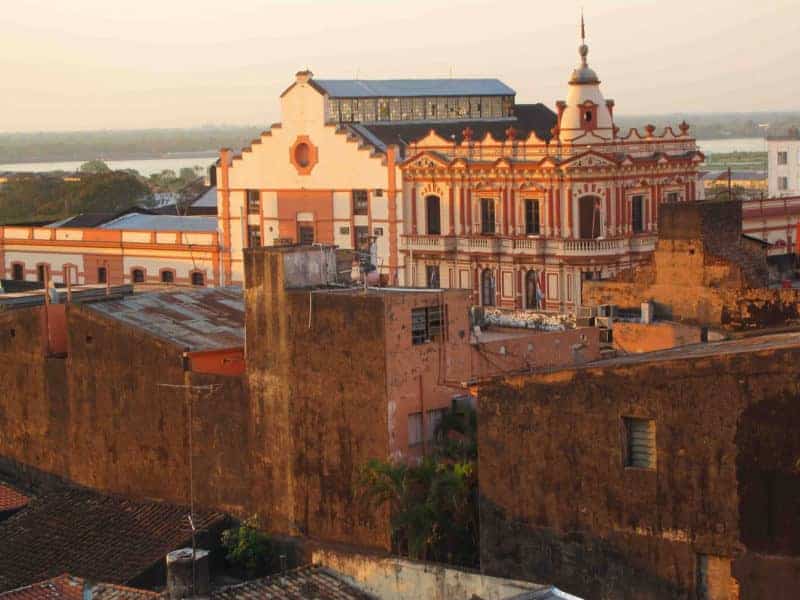 Asuncion is one of the oldest cities in South America and a destination you should not miss.
Asuncion is the capital city of Paraguay, known for the Grand Lopez Palace. It is the seat of the government housing the president's office. The palace has elegant night lighting that makes it look like a fairytale castle.
Besides the Grand Lopez Palace, you should also visit places like the Loma San Jerónimo and Casa de La Independencia.
Saltos Del Monday is Paraguay's most beautiful natural wonder. It will make you feel like you are in heaven. This waterfall site is on the outskirts of Ciudad del Este.
You must witness the view with your own eyes by hiking to the viewpoint. Besides sightseeing, Saltos Del Monday is an excellent spot for photography.
La Santísima Trinidad de Parana
Once that used to be a lively mission and a home to the European Jesuit. Now, it turned into a crumbling ruin. La Santísima Trinidad de Parana is a UNESCO World Heritage Site with relics from the colonial era.
The site has a rich Jesuit culture and an ancient legacy.
Cerro Cora National Park is Paraguay's best eco-tourism destination. It holds some dramatic scenes in the country.
The vast Amambay range surrounds this national park.
I suggest you take a tour guide to explore this dense woodland. It is easy to get lost inside the massive range of trees. You can also camp and take a dip at the Rip Aquidaban.
Ybycui National Park is a low-key site in Paraguay, best for thrill-seekers. It takes you to go through some excruciating trails to get to this beautiful destination.
The national park is home to Capuchin monkeys and some gushing waterfalls.
Another attraction to explore in Ybycui National Park is the ruins of the iron foundry. It is where the hard-fought Paraguayan War forces created weapons and munitions while hiding in the hills.
Encarnacion lies in the southeastern part of Paraguay. The town has gained fame for the beautiful Jesuit ruins and the Parana river.
While you are at Encarnacion, you need to visit the San Jose beach. Here, you can relax your muscles from all the traveling you did.
You should also take a tram to Encarnacion and Posadas. You will get a holistic view of two beautiful cities: Encarnacion and Posadas.
6. Safest Places to Travel in South America: Peru
Peru is another South American country on the bucket list of many travelers. Why wouldn't it? Peru is home to the great Amazon rainforest and Machu Picchu.
The country is rich with archaeological sites and pre-Colombian art. Peru is also renowned for having the world's highest dune and the second-deepest canyon in the world. What I must say is, Peru is best for a historical and cultural adventure.
Peru is a relatively safe country that falls on the 'Top 10 Safest Countries of South America.' The state has a level-two Travel Advisory, the same as that of the U.K. and France, given from the U.S. Department of State.
Peru has been misunderstood for not being a safe country. For this, I am here to guide you where all to go for a safe trip.
Peru's developed and populated areas are safe. The dangers that you need to be aware of are theft and pickpocketing. Plus, it would help if you also were mindful of the wild creatures while traveling to the Amazon Rainforest.
Overall, I suggest you be very cautious everywhere. You should not trust anyone besides your tour guide.
Best time to visit Peru
The most suitable time to visit Peru is between May and October. When the weather is dry, you can view the bright blue skies in the Andes. These months are great for going on treks in Peru.
Best places to visit In Peru
Let us start the Peru tour from the capital city or, as they say, the 'City of King'—Lima.
Lima is a symbol of the country's Spanish colonial history and independence. It is also a center of Peruvian gastronomy. You should go on a food tour at Lima as the city has some restaurants that rank in the world's top 10 list.
Go on a historical drive at the Museo Larco Museum and the Plaza de Armas. Stroll around the Parque del Amor that offers a spectacular view of the Pacific Ocean. If you are in a shopping spree mood, then go to Larcomar.
If you are a Disney fan like me, then you are very familiar with the name Cusco. Spelled as Kuzco in the movie, he was a narcissistic emperor who turns into a Llama after drinking the wrong poison in the film, 'The Emperor's New Groove.'
Okay, let us go back to Cusco; the Inca empire's capital is also a UNESCO World Heritage Site. Located near the Urubamba Valley of the Andes mountain, Cusco is a fascinating city. It has fantastic colonial architecture.
The main square here, Plaza de Armas, is the first place to visit on your Cusco tour. You should also visit the Cusco cathedral to see Peru's archeological relics and artifacts.
The city has a very romantic vibe and has hotels with cozy and traditional Incan features. You can go for an all-day excursion at the famous Rainbow Mountain from Cusco. There you can try out some outdoor adventure activities.
Machu Picchu is among the world's top destinations to travel to, and it happens to be in South America. Machu Picchu is among the UNESCO World Heritage Sites and is considered one of the World's Seven Wonders.
Machu Picchu is a breathtaking Incan city that looks like it is floating in the sky. The town has astonishing architecture.
I suggest you acquire your tickets in advance. Only a limited number of visitors get permission to enter the city each day.
To reach Machu Picchu, you can either hike the Inca trail or take the Inca Rail. Taking a rail journey from Cusco is best to view the Sacred Valley's beautiful countryside.
The Sacred Valley (also known as Urubamba Valley) is a great place to explore the Inca ruins. You can also enjoy outdoor activities here.
You can book adventure tours like mountain biking, horseback riding, hiking, and rafting with the tour agencies. Sacred Valley Incas Trail is a famous route. From here, you start your hiking journey to Machu Picchu.
Sacred Valley has some picturesque locations like the Salina de Maras and Ollantaytambo.
The Amazon Rainforest is among the world's largest tropical rainforests. It is famous for its biodiversity, 19th-century architecture, and the Amazon river.
The Peruvian territory covers 60% of the forest. Here, you can learn about 1,204 plant species, 449 bird species, 256 fish species, 102 types of mammals, 69 reptiles, and 58 amphibian species.
The best thing about the Peruvian Amazon is that you will have hassle-free access to transportation. You can also board a luxury river cruise to explore the Amazon in comfort.
I suggest you take a simple boat tour. Touring Amazon by water lets you see the rare animals like the Amazonian pink dolphins.
Colca Canyon is second in terms of depth in the world. It is excellent for hiking. You will be passing through a green valley and remote traditional villages as you hike to the canyon.
The Colca Canyon is full of tranquility. It is also covered with colorful terraced irrigation lands taken care of by local farmers. The Colca River is also an excellent spot for rafting.
After your outdoor adventures, you can relax at the Calera hot springs and enjoy the view.
7. Safest Places to Travel in South America: Bolivia
Neighbor to Peru is South America's best-kept secret, Bolivia. Bolivia is a country that has diverse landscapes and fascinating destinations. It shares the continent's largest lake, Lake Titicaca, with Peru.
Bolivia is famous for having the world's most extensive salt flats and the most dangerous road (for adrenaline-seekers). The country boasts the beauty of its flora and fauna.
It is also a major producer of cocoa beans. Bolivia even has a Cocoa Museum in La Paz. Cocoa has a high regard in Bolivian culture.
Although Bolivia is famous as the poorest country in South America, it is still somewhat safe to travel to certain places. Thefts, pickpockets, and street crimes are prevalent. So, I recommend staying aware of tourists' hotspots like restaurants and public transportations.
Best time to visit Bolivia
The most suitable time to visit this pretty country is from May to October as the weather is dry and the skies are more transparent. These months have less travel disruption. I suggest you avoid the high winter season that starts in June and ends in July.
Best places to travel In Bolivia
La Paz and the Vale de la Luna
La Paz is Bolivia's capital city. It has a thriving gastronomy scene and a proud indigenous heritage. This town is a must-visit for all the urban-dwellers who love some chic spots to hang out.
The unique markets, as well as the dramatic topography and culture, make La Paz famous. You should ride the aerial cable car and soar over the city to see La Paz's picturesque setting.
You should also visit the Valle de la Luna (Moon Valley). It has an other-worldly landscape made by the erosion that has worn away the majority of the mountains. It is a showpiece of La Paz that you should not miss.
Salar de Uyuni and its National Park
Salar de Uyuni is the world's most massive salt plain. It came into existence after a prehistoric lake went dry. People consider this scenic area one of the most remarkable vistas of South America.
Salar de Uyuni is a fascinating place where you can see nothing but a vast white salt plane. If you are traveling to this place in the rainy season, you will get to view the world's most massive mirror. It was created due to the water lying a few centimeters atop the salt flats.
I suggest you take a three-day jeep tour at this magnificent place. It will take you to the national park that houses volcanoes, mountains, and deserts. An excursion at the national park will also give you the chance to see flocks of flamingos.
Trust me, Salar de Uyuni will treat you with the best of the natural wonders of Bolivia.
Officially called the Yungas Road, The Death Road is a feast for adrenaline junkies and backpackers. Death Road is an excellent place for mountain biking.
Besides being dangerous, the biking trail shows you some beautiful greenery. Just be careful and have an insurance policy as this road is hazardous. You know, you may even end up at the bottom of the cliff.
Lake Titicaca is the most elevated lake globally, situated on the border between Peru and Bolivia. The area around the lake is full of spiritual and natural beauty.
Visit the Titicaca National Reserve to see the rare aquatic wildlife. You should also stay a day in Copacabana while you are touring Titicaca.
Copacabana is a significant place to see the culture of the Andes people. It is a very spiritual place famous for its festival called 'Our Lady of Copacabana.'
I suggest you visit this lakeside town just in time for the festival.
La Glorieta Castle is a must-see at Sucre, Bolivia. Its magnificent European-inspired architecture attracts many tourists. I am sure this site will leave you in awe too.
The pink fairytale castle was once home to Bolivia's only prince and princess of the late 1800s. It is a great place to learn about the philanthropic pope and the royal couple.
Toro Toro National Park lies in the eastern mountain ranges of the South American Andes. Of all the national parks of Bolivia, I believe Toro Toro is the most magical one. Why?
The Toro Toro national park has astonishing rock formations. It has endless underground caves that are spacious for hikes and treks. You know how big a sucker I am for landscapes.
Toro Toro also has gigantic dinosaur footprints. It is famous as South America's Jurassic Park.
Some places to visit inside the national park are Canon, Toro Toro, and Vergel. Also, go to the Ciudad de Itas to look at the impressive collection of animal-shaped rock formations. It also possesses a chain of small caves. Cueva Humajalanta is a great place to go caving at Toro Toro.
I hope I cleared some misunderstandings about South America for you. South America is a place that needs exploration from nature and adventure lovers. I hope this article helps you decide which country you want to travel to on your South America tour.