Everest Base Camp is one of the most sought out treks for thrill-seekers. Why wouldn't it? The beauty and solemnity of the Himalayas, the chance to see Mount Everest from close up, and the unpredictability and risks will keep your heart pumping like no other treks.
And if you're wondering how to prepare for it, well don't worry, we've got you covered too.
First things first, know what you're dealing with. Everest Base Camp is no stroll in the park. It's a journey that takes around 11 to 19 days to complete depending on your itinerary, and it has its fair share of hindrances that are not for the faint of heart.
Along this journey, you'll traverse many high-altitude passes and trek through varying landscapes of glaciers, alpine pastures, deep gorges, and more. From the moment you initiate the process of securing a permit through your trekking agency to make your way to Base Camp, you'll find out exactly what this trip is all about.
You'll be making a considerable investment in getting yourself and your group on board for one of these adventurous journeys.
The trek to Everest Base Camp is an experience of a lifetime, even for beginners. However, there is a common mistake that many trekkers make- OVERPACKING!
To help your trek feel less like a heavy burden and more of a joyful adventure, get lost forever is here to help you.
We have prepared an in-depth guide on how and what to pack for a typical Everest Base Camp trek and other treks in that region. However, keep one thing in mind, in the end, you should also tailor it to your personal needs and preferences.
Let's begin!
When will you be going for an Everest Base Camp trek?
Your packing list will depend on what time of the year you'll be trekking in. Everest Base Camp has two major seasons for trekking. First, from March to May, then from September to November.
These are splendid times for a trek as you will get mesmerizing views and there are fewer clouds. Plus, chances of precipitation are low.
Now let's move on to the EBC Packing List which is as follows:
1. Travel Documents
The first thing to take care of while starting to pack is your travel documents. You need to carry these documents in your backpack and make sure you do not leave them behind in your hotel.
The list of travel documents that you need to carry at all times are:
i. Passport (with at least six months validity)
ii. Copies of Passport
iii. Passport-sized photos (x4)
iv. Visa
v. Immunization records
vi. Insurance certificate (to help you cover medical, trip/flight cancellation or rescue and air ambulance during the trip)
vi. Trekking permits (your trekking agency may take care of it)
vii. Around $200-$300 cash (for extra day-to-day expenses)
2. Trek Clothing
A significant component of your EBC packing list will be your clothing, and this will depend on what season you will be trekking in the Everest Base Camp.
The key to a joyous trek is to wear comfortable and drift clothes that also help you protect your skin. The clothes' fabric should be breathable and moisture-wicking so that you will stay nice and dry throughout your hike.
A. Headwear
The first on the clothing section of the EBC packing list is the headwear. Some of the headwear p
i. Sun Cap or Brimmed hat
Pack a sun cap or wide-brimmed hat to keep your face, neck, and ears from burning from the sunrays.
ii. Scarf or bandana
The capital city is dusty. Besides, the trails also have a huge traffic of trekkers, potters, locals, and donkeys and yaks. Banada or scarf will protect you against dust and cold.
iii. Knit Hat
Everest Base Camp is located at a high altitude, and even though the weather will be warm throughout the day, it can get rather cold during the night and early mornings. Pack a knit hat to protect yourself from freezing temperatures.
iv. Neck Buff/Gaiter
Neck Gaiter helps you keep your neck warm. It is also used to cover your mouth and protect it from getting dry.
The reason for protecting your mouth from getting dry is because if there is a lack of moisture in your mouth, you will be a victim of the Khumbu cough, which will eventually damage your throat and lungs.
v. Sunglasses
Pack dark, wraparound sunglasses to protect your eyes from the UV rays and ice-glares.
vi. Headlamp and extra batteries
Headlamps are necessary when staying at a lodge, and you need to go to the bathroom or stroll around. Besides, it can also help you trek during the night or early mornings.
B. Bodywear
i. Thermal base layers
Thermal base layers are essential items during your trek on the higher altitudes. If you're traveling, especially during November, thermal layers will keep you warm at the highest elevations during the night and day.
If you are trekking in summer, you may not need a Thermal base layer, but packing one won't hurt.
Recommended for women: Women's Thermal Underwear Set Long Johns Base Layer Fleece Lined Soft Top Bottom
Recommended for men: Thermajohn Men's Ultra Soft Thermal Underwear Long Johns Set with Fleece Lined
ii. Long and Short Polypropylene Sleeve shirt
You will need a long or short sleeve polypropylene shirt in the initial stages of your trek. Pack two short sleeve shirts and two long sleeve shirts depending on the month.
These lightweight shirts are great for hiking on the lower elevations. Later as you move up, you can add your thermal base.
iii. Insulation Layer
You will need an insulation layer for your upper body. You can buy one for your legs if you want, but it is not necessary.
An insulation layer that is made from fleece will help you stay warm while feeling breathable. You can find good fleece jackets from the North Face, Columbia, REI, and Polartec.
iv. Down Jacket
Down Jacket is a must-have for all kinds of adventures. Buy a quality down jacket that has at least 600 or 800 fill down.
You will be wearing your down jacket throughout your trek. You can buy a good quality jacket from your home country or buy it in Kathmandu as well. Mind you, the jackets in Nepal will be cheap and fake but will provide warmth whatsoever.
Recommended: Some of the best Down Jackets are North Face, Eddie Bauer, Hagloffs, and Mountain Hardware.
v. Waterproof jacket with hood
Pack a Gore-tex or any other waterproof jacket as outerwear. Waterproof jackets must be lightweight. The jacket helps protect you from rain, snow, and wind.
Recommended: North face revolve jacket
vi. Trekking Pants and Shorts
Trekking pants are another essential clothing items to pack for the Everest Base Camp. You will be continuously walking for days in the Sagarmatha National Park, and this calls for comfortable, breathable, and waterproof pants.
Pack additional pants just in case it rains or your pants get damaged.
If you are trekking during the summer season, it is essential to pack hiking shorts.
Learn how to choose trekking pants here
vii. Fleece pant
Pack fleece pants so that you can wear them after you arrive at your lodge. These pants will keep you warm while you're eating or chilling at the lodges in your trail.
viii. Light thermal trousers
You will need to pack a light thermal trouser with moisture-wicking fabric for sleeping in or night climbing. It will help keep your body warm in cold conditions.
ix. Boxers/Underwear/Sports Bra
Undergarments are clothing items that often get ignored. You will need a handful of drift boxers and underwear.
The undergarments need to be breathable and moisture-wicking. Carry at least five pairs of underwear/boxer and two pairs of sports bras.
C. Handwear
Gloves (waterproof/wool/fleece)
You need to wear a pair of gloves to keep your hands warm and protect them from frostbites. Make sure the gloves are warm and waterproof.
Wear a thin liner glove inside a warm thick glove. The liner gloves help you take photos while keeping you warm.
If you're trekking in summer, the inner gloves will work fine.
D. Footwear
An essential item on your EBC packing list is strong, durable footwear. Trekking is all about walking for days, and if your feet aren't coping with the trails, you know, you're doomed throughout your trip.
Your feet will take you to the Base camp and back, so you need to make sure that you wear some comfortable socks and shoes to avoid blisters and aches.
i. Hiking boots
Your hiking boots need to be comfortable, warm, and waterproof. Depending on your itinerary, you will be walking for 11 to 19 days, and a durable boot is one of the main things that will help you make your trip successful.
Make sure that your boots are made with quality leather and have a rigid sole. In addition, it needs to have deep-cut traction on its sole.
You can learn more about how to choose trekking boots here
Recommended: Some of the best brands for hiking boots are Saloman, Hi-Tec, and Karrimor.
ii. Hiking Socks
Some of you may not be aware of this, but yes, there is a specific type of socks for hiking. Solid wool-type socks are a must for the Everest Base Camp trek. During your walk, your feet will remain warm and dry.
You will need to wash your socks 1-2 times during the trek, so make sure to carry 3-4 pairs of them. Also, pack warm thermal socks, which you will need as you reach the base camp.
Recommended: Merino Wool Micro Crew Socks are best for men
Darn Tough Women's Treeline is best for women
iii. Trekking Shoes/Sandals
We recommend that you also carry trekking shoes/sandals with you to use in and around tea houses.
Also read about how to clean your trekking boots
3. Trekking Equipment
Trekking is incomplete without a proper set of equipment. Trekking equipment varies depending on whether you will hire a porter or whether you'll be carrying it on your own.
i. Duffel Bag
If you're hiring a porter or have a yak to do the carrying, then a duffel bag is the best option. Get a duffel bag that is durable, water-resistant, and has a locking system.
Recommendation: TYTN Duffel Bag 90L or Himalayan Glacier
ii. Backpack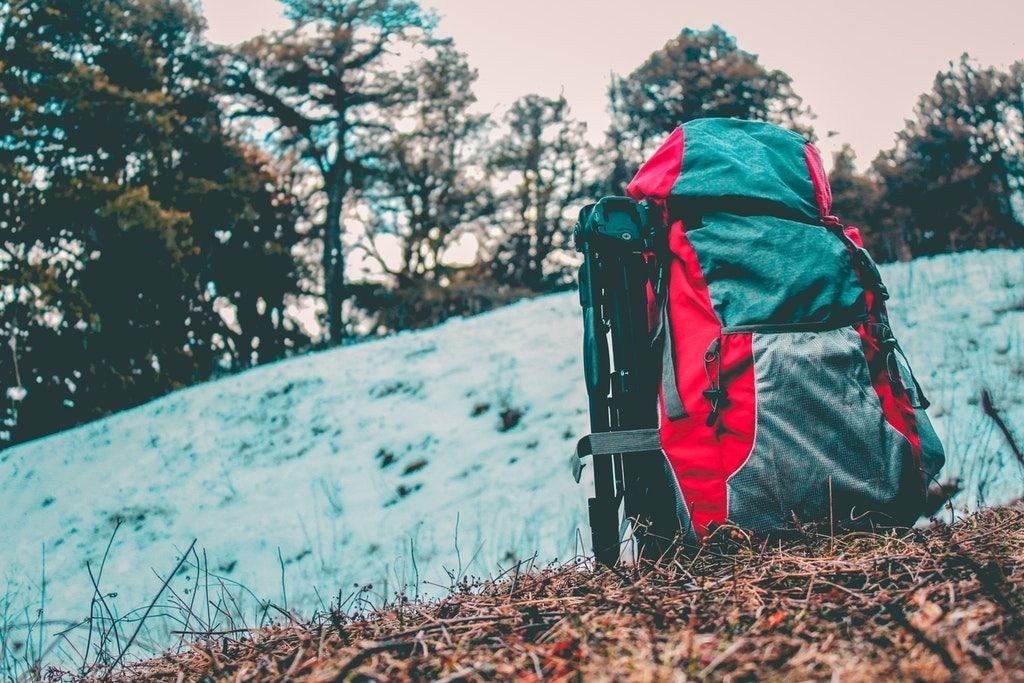 If you don't have a porter or want to carry some of your important stuff with you, a good backpack is worth investing in.
You can buy a 50-65L backpack that is durable, water-resistant and has a locking system.
Click here to read about how to choose a backpack
iii. Sleeping Bag
Your accommodations will have a bed, but it will be pretty cold during the night, so it is best to carry a sleeping bag.
You can rent one from Kathmandu. But, first, make sure it is rated at -15°C (5°F). Also, carry a sleeping bag liner
Recommended: TETON Sports Lightweight Sleeping Bag
iv. Trekking poles
Trekking poles are an essential item for the Everest Base Camp trek. The trails will be rocky, steep, and slippery, and trekking poles will help balance and put less stress on your body.
Click here to learn about how to choose trekking poles
v. Thermosets (optional)
Thermosets are not compulsory; however, if you plan to sleep in tents, it is best to carry a self-inflating mattress.
4. Trekking Accessories
i. Day backpack cover
You need to carry a waterproof backpack cover to protect your backpack from heavy rains. A backpack cover will keep water from seeping inside the bag and damaging your electronic gadgets and essential documents that are inside.
ii. Garbage bag
A garbage bag is a must while trekking in the Everest region or any other place in the world. You should store all the garbage in these bags and throw it on the dustbins available on the trails or in teahouses.
You can also use garbage bags to wrap your clothes in case they are wet.
iii. Water bottle
Staying hydrated is a must while you're trekking to the Everest Base Camp. You need to carry a water bottle that is made of thick plastic and is BPA-free. Example: Nalgene
You can use these bottles to fill boiling water.
iv. Water Bladder
The water bladder is an essential item to have on your Everest Base Camp packing list. These bladders let you drink plenty of water while walking on the trail.
You won't even have to use your hands. You can sip water from the bladder attached to your backpack. We suggest you fill 2-3 liters of water before hitting the trails every morning.
Learn how to clean water bladders here
v. Ziploc-type plastic bags
Even though these are optional, you can carry some Ziploc-type plastic bags or stuff sacks to keep your gadgets and gears dry.
vi. Bag Locks
Carry TSA locks to lock your bags. These are a must to protect your items from getting stolen.
vii. Trekking Map
You will be trekking with a guide, but it is essential to carry a trekking map to understand where you are on the trail. You can buy maps in Kathmandu.
If you want to buy a waterproof map, then this one from NatGeo is excellent.
viii. Electronic Items
Below is a complete list of electronics you'll need on Everest Base Camp:
a. Phone and Charger
b. Camera and Charger
c. GoPro and Charger
d. Portable Charger
e. Headlamp
f. Solar Powerbank
Charging your electronics comes with a price. Anywhere besides Namche Bazar asks $5 or more to charge a cell phone. If you want to charge other items, the cost varies.
It is best to carry a solar power bank as it is cost-effective.
5. Toiletries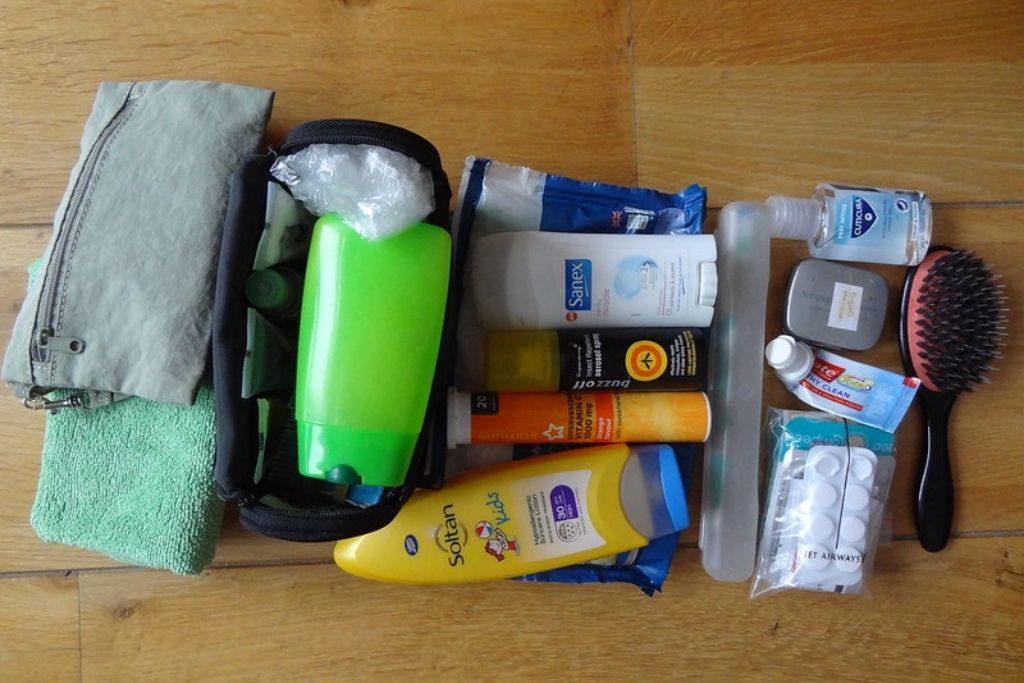 Every individual has their own daily healthcare needs. You will need to add the following toiletries items on your EBC packing list:
i. Quick-drying towel
Carry a medium-sized quick-drying towel to dry yourself after washing your face or after a quick shower at teahouses.
ii. Toothbrush/paste
It is best to carry a bio-degradable toothbrush and paste while you're trekking on the Everest region.
iii. Multi-purpose soap and travel shampoo
Carry a travel soap for the times you need to shower.
iv. Deodrants
Deodrants are optional, but it would help if you carry a pocket-sized deodorant for the trek.
v. Nail clippers
You can use nail clippers to cut your nails if it grows long or if your foot nails are making your walk uncomfortable.
Nail clippers can also safely release potential blisters.
vi. Toilet Paper
Toilet paper is used when you need to go to the bathroom. You can dispose of them in a small plastic bag and throw them in the teahouses' bins.
vii. Face and Body moisturizer
The air on the higher elevation is dry. Always put on a face and body moisturizer to prevent your skin from being dry.
viii. Wet wipes
Hot showers at teahouses cost around $5-$10. You may find it harder to take a shower as you go higher.
Wet wipes will help you stay clean and sweat-free.
ix. Sunscreen
Sunscreen is a must even while you're trekking in the colder areas. It will help your skin from being damaged by harmful UV rays.
x. Lipbalm
Keep your lips moisturized by using a lip balm.
xi. Small Mirror
A small mirror is an optional item as you can use your phone's camera as well. However, carrying one will help you with applying creams or contact lenses.
xii. Female hygiene items
If you are a female trekker, do not forget to bring feminine items such as cotton pads, tampons, and intimate wipes. Dispose them in a plastic bag at teahouses' bins.
xiii. Contact lenses and solution
If you use contact lenses, don't forget to carry your solution and your kit to keep your contact lenses safe.
6. Medicines
It is crucial to carry a small personal first aid kit even though the trekking guide will be bringing a group medical kit. Here, you can bring your prescribed medicines as well as extras for emergency purposes.
Some of the extras that you need to carry on your EBC packing list, besides your prescribed medicines, are:
i. Diamox tablets
Carrying a Diamox tablet is a must while you're trekking in high altitudes such as the Everest Base Camp. Diamox tablets help prevent Altitude Sickness, which can be life-threatening.
ii. Throat Lozenges
Cough or throat lozenges help you heal sore throats which may occur due to cold and dry air.
iii. Antibiotics
Carry antibiotics as prescribed by your physician. It is best to carry two courses of antibiotics, one for chest and respiratory tract infections and the other for abdominal or bowel infections.
iv. Painkillers
Carry painkillers like paracetamol, aspirin, Advil, or Ibuprofen to help with headaches or body aches.
v. 1-Triangular bandage
Bandages are used to cover wounds or sore areas.
vi. Anti-inflammatory tablets
vii. Water purification tablets
Water purification tablets are a must to purify water along the trails. You can purchase them in Kathmandu or bring them from your hometown.
Using water purification tablets will save you money and will also help lower plastic use.
viii. Electrolytes powder or tablets
Bring electrolytes powder or vitamins C or multivitamin tablets to stay hydrated and energized throughout the trek.
Thus, these are the complete EBC packing list that covers everything from clothing, equipment, toiletries to medicines. Hopefully, this guide helped prepare you for your Everest Base Camp trek.
If there is any question or suggestion, feel free to comment below.
You can also book your EBC trek from our site.